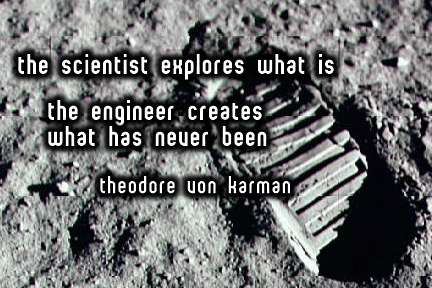 Welcome to the EngineeringWiki. Feel free to add information you feel will be helpful. I monitor changes and will delete anything that is inappropriate – spammers beware!
If you're in K-12, or are a K-12 teacher, you really must check out http://www.teachengineering.org/. It is full of lesson plans that will help teach Engineering to students.
If you're thinking of Engineering as a career, you might want to read WhyEngineering. If you've already decided, then EngineeringPrograms is a list of some Canadian Universities that offer Engineering.
Don't just take my word for it. EngineeringInTheNews is a list of news items relating to Engineering. FamousEngineers is a list of people that you might not know have an Engineering background.
Once you graduate, you'll want to become a ProfessionalEngineer. It might also help you understand about some of the professional issues in Engineering. One symbol of the Engineer is the IronRing, which signifies the Engineer's obligations to society. In fact, one of the major things that separates Engineers from Technicians, Scientists, and other people is the emphasis (and legal obligation) to act with society in mind.
TheLighterSide of Engineering: Pranks are an integral part of the Engineering education. Some people put their exploits on the 'net.
OtherEngineers - Are you an Engineer, Soon To Be Engineer, or Engineer Wanna Be? Put your page here